Grand Festival at Sri Uluberia Temple
Saturday-Sunday, 18-19 January 2020,
Howrah District, West Bengal
Photographs courtesy of Sri Kamalendu Prabhu
pujya-sri-guru-varga-vandita-mahabhavanvitayah sada
paurvaparya-parampara-prachalita-prajya-pramurtakrteh
bhakter nirmala-nirjharasya nibhrtam samraksakam sadaram
vande sri-gurudevam anata-sira acharya-varyam nijam
"I bow my head in eternal obeisance to my Gurudev, the best of acharyas, Srila Bhakti Nirmal Acharya Maharaj. He is the ever vigilant, stalwart guardian of the current of pure devotion whose highest form flows from our most worshippable Sri Rupanuga Guru-varga in their exclusive dedication to Mahabhav, Srimati Radharani."
vaisnavera pada-dhuli tahe mora snana-keli
tarpana mora vaisnavera nama
vaisnavera uchchhista tahe mora mano-nistha
vaisnavera namete ullasa
"The feet dust of the Vaishnavs is where I sport and take bath, Vaishnavs' name is the water oblation. My mind is intently fixed upon the remnants of Vaishnavs, and I am elated at the name of Vaishnavs."
gangara-parasa ha-ile paschate pavana
darsane pavitra kara—ei tomara guna
"If the Ganges touches someone, they are purified some time later; but one becomes purified just by seeing you, O Vaishnava Thakur. Such is your power."



SATURDAY, 18 JANUARY 2020

The decorated front stating the name and the preceptorial line of the Temple.

The beautiful lovingly arranged altar with the Guru-varga and Lordships photographs.

His Divine Grace leads the evening arati.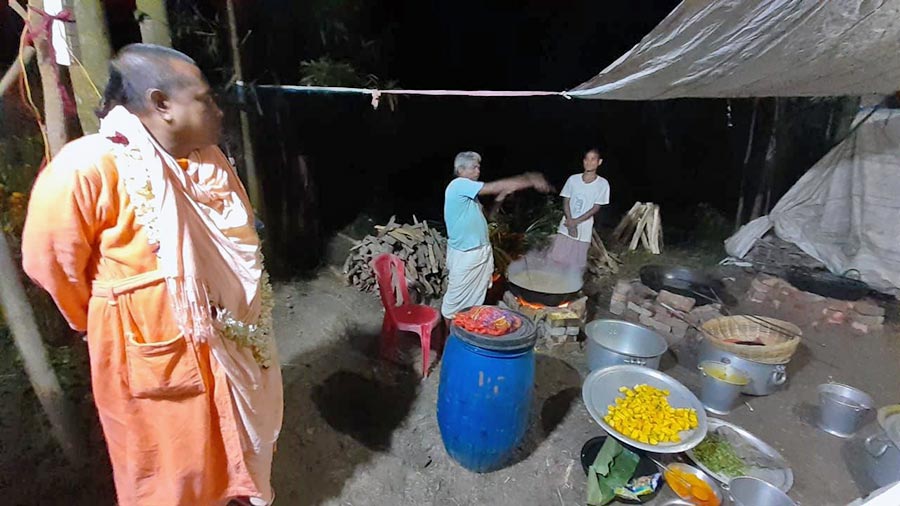 After the arati His Divine Grace comes to oversee the kitchen services that are in full swing in preparation for today's and tomorrow's Vaishnav-seva.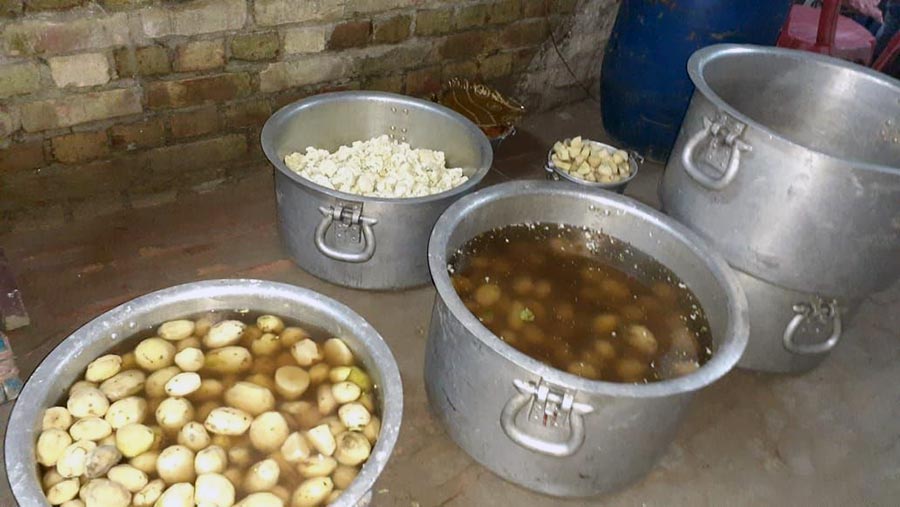 Many vegetables are prepared beforehand for tomorrow's grand programme.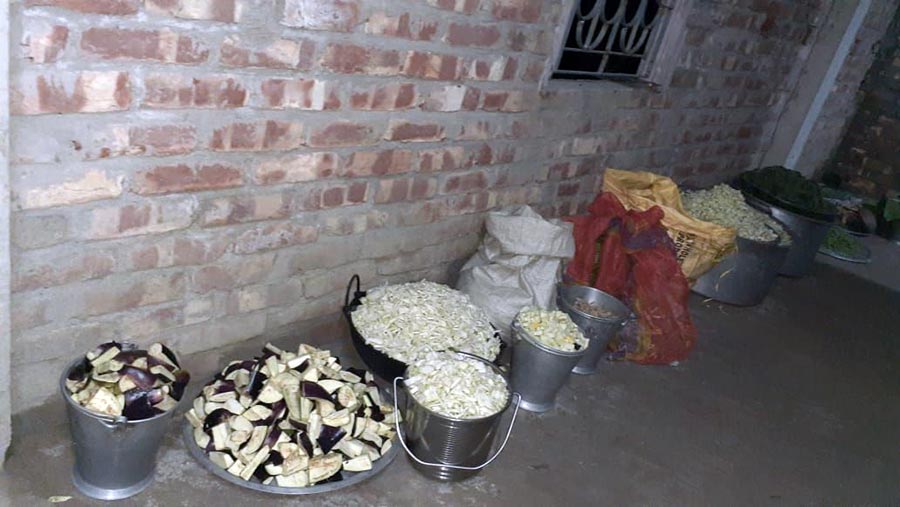 Devotees making puris.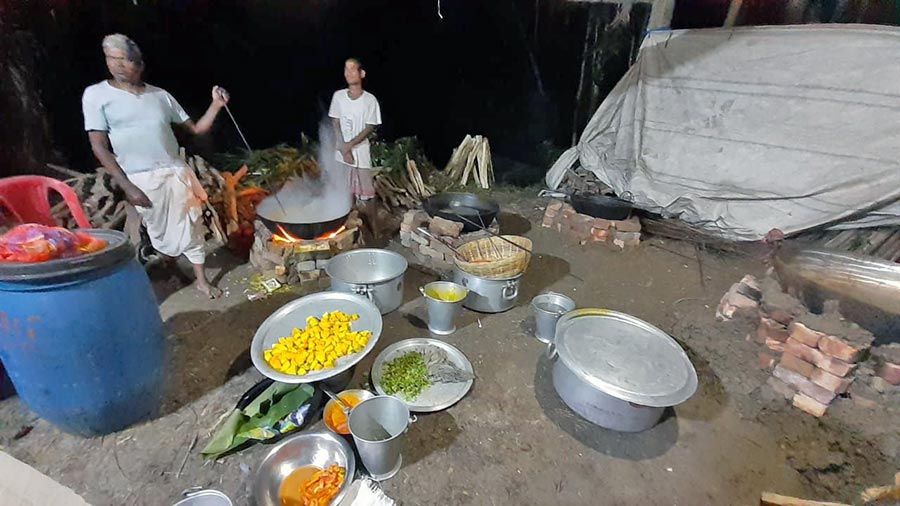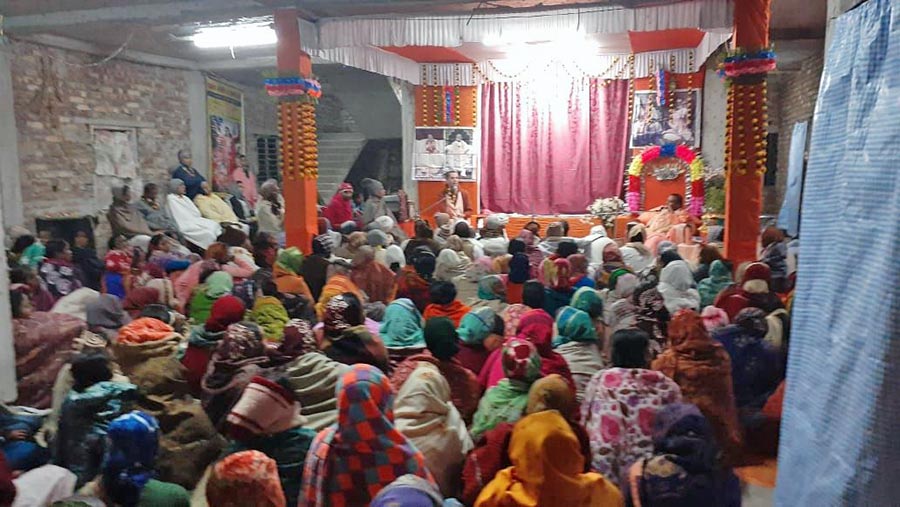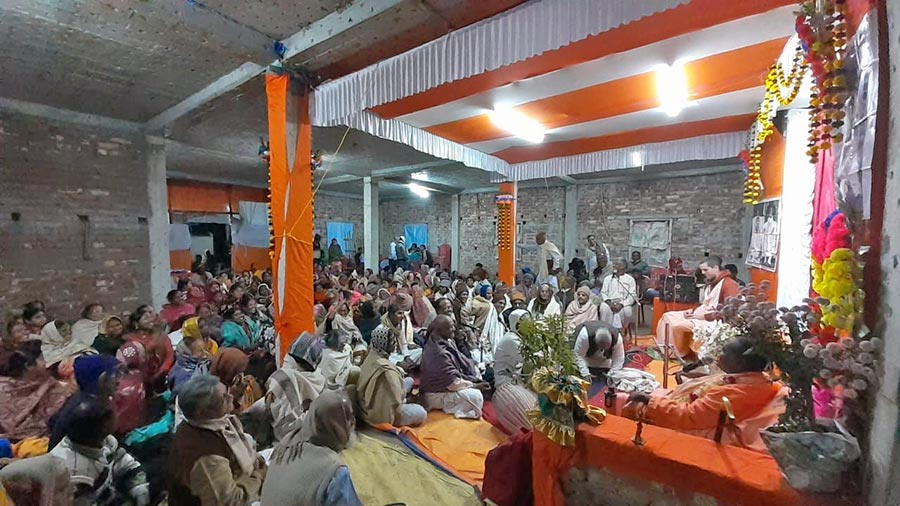 His Divine Grace addresses the assembled devotees happily noting that even now, when the temple is barely manifest, the nat mandir is already full.

On request of His Divine Grace, Sripad Tyagi Maharaj speaks Hari-katha to the devotees.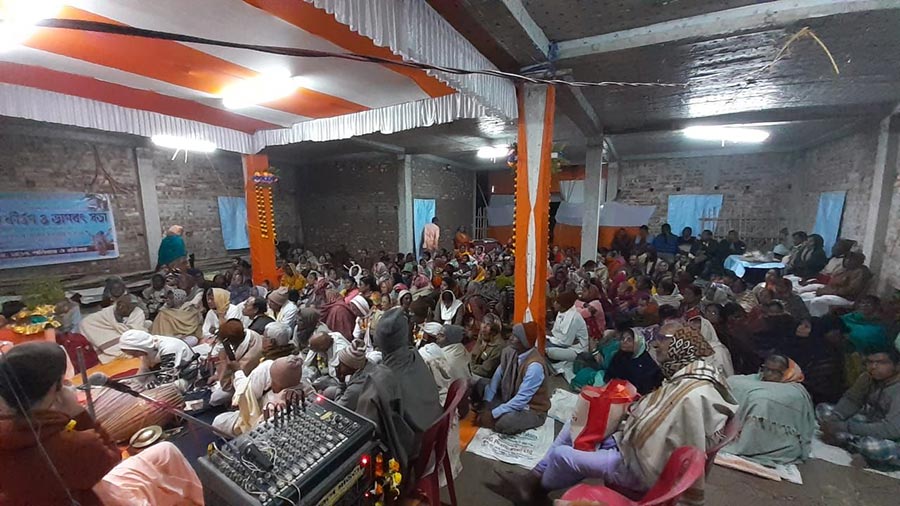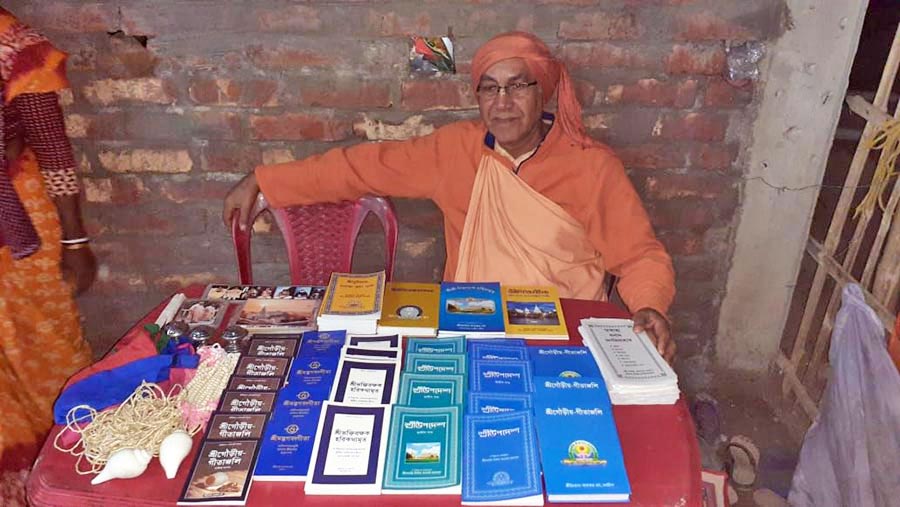 Sripad Sajjan Maharaj, happily at his book distribution service.
SUNDAY, 19 JANUARY 2020

The next morning His Divine Grace spends some time on the roof observing the construction and talking to the devotees.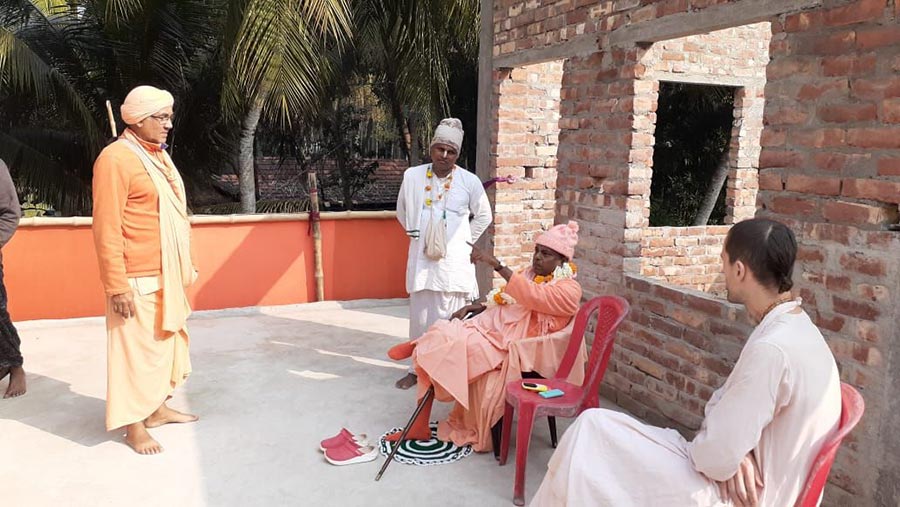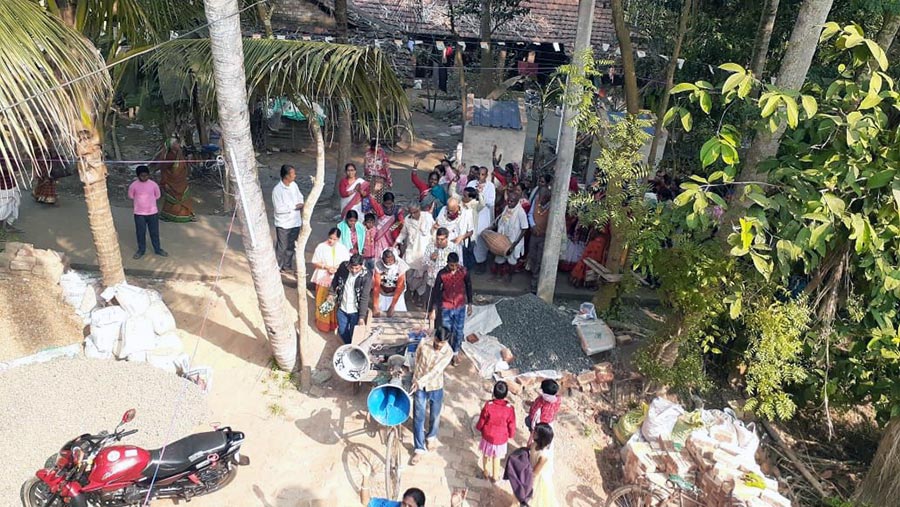 Devotees come back from a Nagar-sankirtan collecting, inviting and attracting many fortunate souls to the programme at the new temple.

During the late morning class.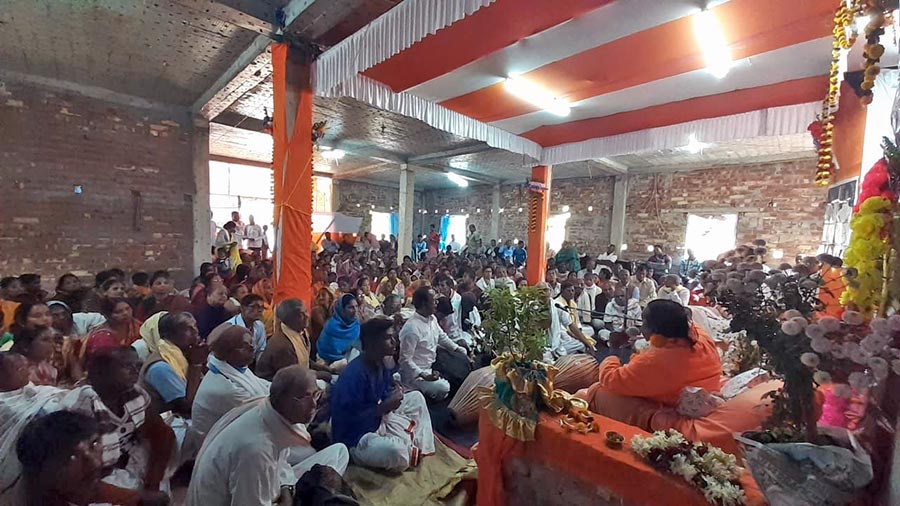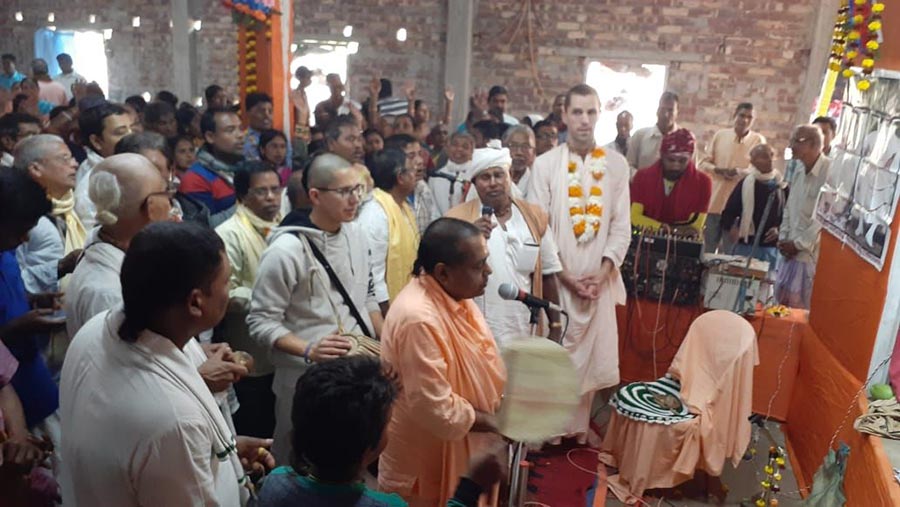 The noon arati.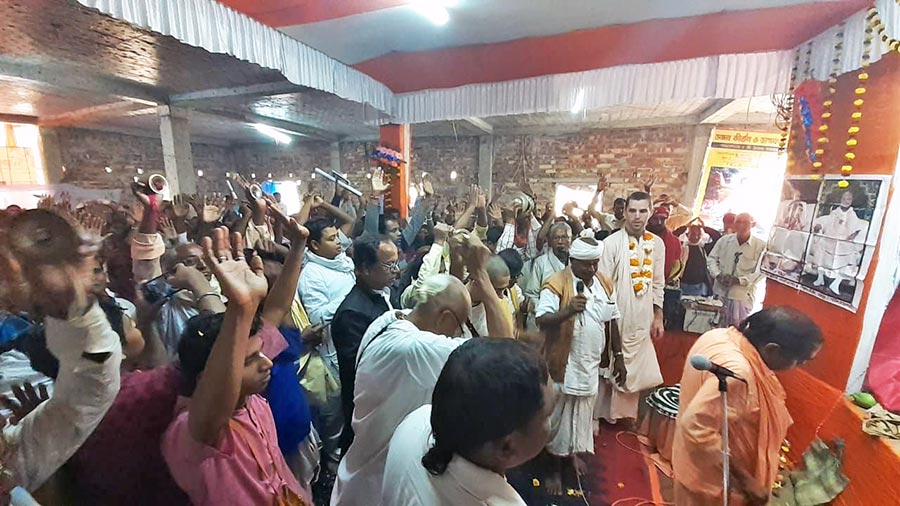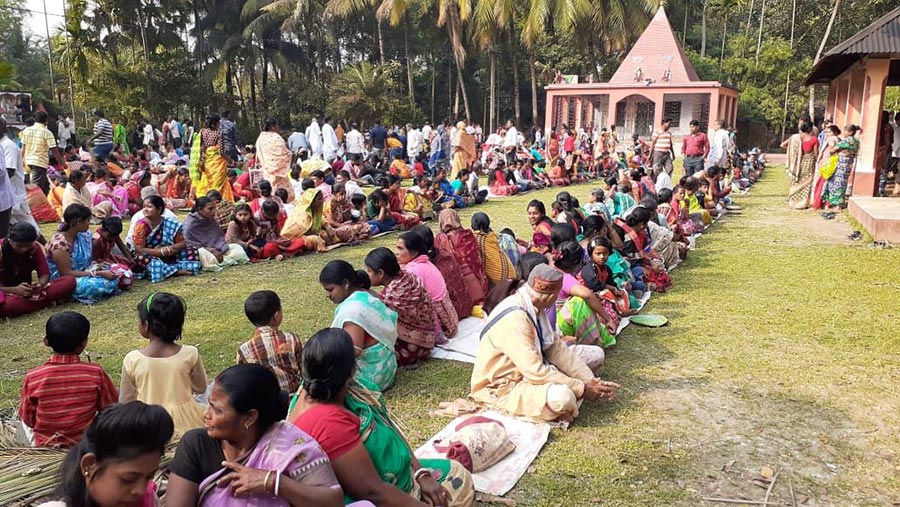 Following the arati, devotees hold a massive prasadam distribution—devotees lovingly distribute merciful remnants of the Sri Guru, Vaishnavs and the Lord to anyone who shows up.