| | |
| --- | --- |
| Our Disciplic Succession: | "The Sun Never Sets on Sri Chaitanya Saraswat Math": |
PAGE NOT FOUND
Dear visitor,
The page you are trying to reach seems to have changed its location or you have followed a broken link. You can always get to any of the pages on the website through the menu on top. If you do not mind it, you can let us know how you have come to this page so that we fix the broken link, by sending us a note at

The Vedas tell us, 'Om!' Om means a big 'Yes!' 'What you are searching for that is! Don't be disappointed.' The Vedas say that the object of our inner search exists. The common search of all your hearts is existing, and your thirst will be quenched. By your constitution you are meant for that and you deserve that, so don't be afraid; don't be cowed down. It is already given in your being. And you can never be satisfied with anything else. So prepare yourself, after your long search, to receive that long missing nectar in its full form and quality. Awake! Arise! Search for your fortune and you cannot but have that. It is your birthright. It is the wealth of your own soul. It cannot but be within you. You have no other business, no other engagement but krsnanusandhana, the Search for Sri Krishna: Reality the Beautiful.
(Srila B.R. Sridhar Dev-Goswami Maharaj)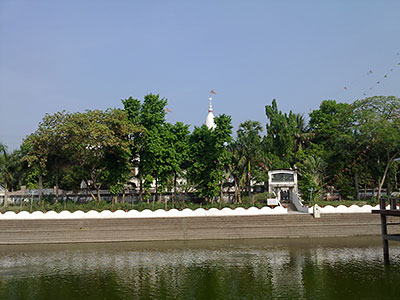 Sanatan Goswami's Madan Mohan
'Many years ago Vrindavan was all forest, a jungle, so Sanatan Goswami would every day go begging to Mathura. Once, he went to a house where there lived a husband and a wife who had been married for twelve-fourteen years but did not have any children..'
"HUMILITY, TOLERANCE, GIVING HONOUR TO OTHERS | HUMILITY, TOLERANCE, GIVING HONOUR TO OTHERS"