| | |
| --- | --- |
| Our Disciplic Succession: | "The Sun Never Sets on Sri Chaitanya Saraswat Math": |
PAGE NOT FOUND
Dear visitor,
The page you are trying to reach seems to have changed its location or you have followed a broken link. You can always get to any of the pages on the website through the menu on top. If you do not mind it, you can let us know how you have come to this page so that we fix the broken link, by sending us a note at

Adopt that path in your search for the real wealth within you, and easily you will find your own self, which is most wonderful (ascaryavat pasyati kascid enam). Discovering that your own self is so wonderful, you will be ashamed, thinking, 'How could I have been carried away by the charm of this mundane world? I am the soul. How was it possible for maya to have such enchanting power over me that my own self, which is so wonderful and so valuable, was drawn into illusion?'
(Srila B.R. Sridhar Dev-Goswami Maharaj)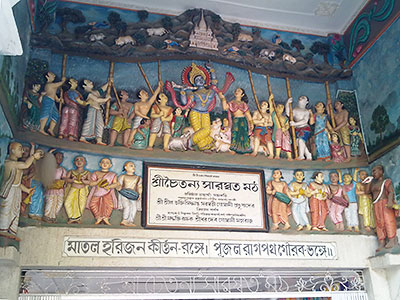 Asraya Vigraha Sri Baladev
'Without the shelter of Nityananda Prabhu, without the shelter of Baladev Prabhu, we cannot think about Krishna. We must understand how to serve, how to give nourishment to Baladev.'
"HUMILITY, TOLERANCE, GIVING HONOUR TO OTHERS | HUMILITY, TOLERANCE, GIVING HONOUR TO OTHERS"